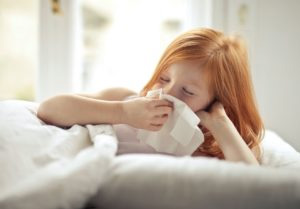 With children back in the classroom, it's almost impossible to avoid germs. As temperatures drop, cold and flu season is here. Unfortunately, a bad case of the sniffles can affect your little one's dental health if you aren't careful. Here are 6 tips from your pediatric dentist in Northampton to keep their teeth and gums healthy until they are back on their feet.
1. Choose Sugar-free Cough Drops
Cough drops and throat lozenges can give your child the relief they need, but they can wreak havoc on their smile. Many contain sugar and additives for flavor, which will feed cavity-causing bacteria. Although sucking on a cough drop can ease a sore throat, it bathes their teeth in sugar. It's better to choose sugar-free options to keep tooth decay at bay.
2. Manage Congestion to Combat Dry Mouth
A stuffy nose can lead to mouth breathing, which can cause oral bacteria growth to skyrocket. Breathing through their mouth causes it to dry out, creating the perfect environment for harmful bacteria to multiply. Treating nasal congestion will make it easier for your child to breathe through their nose during cold and flu season.
3. Keep Your Little One Hydrated
Your child will need plenty of fluids to stay hydrated while on the road to recovery. There are many products containing electrolytes that appear to be healthy; however, many are loaded with sugar. Instead, encourage your child to drink lots of water to stay hydrated. It will also keep their mouth moist to reduce oral bacteria.
4. Don't Forget to Brush and Floss
Brushing and flossing may be the last thing your little one wants to do if they aren't feeling well, but it's important to maintain their daily routine. You can skip the battle by bringing a cup of water and their toothbrush to their bed.
5. Change Their Toothbrush
The American Dental Association recommends changing your child's toothbrush every 3 months unless it is worn or after illnesses. After your child has recovered, get a new toothbrush to avoid reintroducing germs.
6. Don't Brush After Vomiting
Most people reach for their toothbrushes after vomiting, and children aren't an exception. However, your child should wait at least 30 minutes after throwing up before brushing. It can spread stomach acids all over their enamel, weakening it temporarily. Instead, have them rinse their mouth with water.
Cold and flu season doesn't have to lead to bad news during your child's next cleaning and checkup. Keeping their teeth and gums healthy will protect their smile and boost their immune system. If you have any concerns about their dental health, contact your pediatric dentist.
About Dr. Marie Tremblay
Dr. Tremblay earned her dental degree from the University of Montreal and continued her education in pediatrics dentistry. She is an active member of the American Academy of Pediatric Dentistry. She strives to provide the compassionate care young smiles need to thrive. If it's time for your little one's cleaning and checkup, contact our office today.