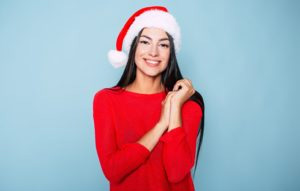 The holidays can add a couple of extra inches to your waistline if you aren't careful; however, the season can also affect your smile. You'll be surrounded by many sweet treats and delicious meals that can tempt your tastebuds, but they can be a recipe for disaster if you don't give your teeth and gums the attention they deserve. You don't have to worry about hearing bad news the next time you see your dentist. Here are 6 tips to keep your smile healthy during the holidays.
1. Revamp Your Oral Hygiene Routine
If you skip brushing before bed, don't call it a night without reaching for your toothbrush. Cavity-causing bacteria can accumulate in your mouth while you sleep, increasing your risk of tooth decay, gum disease, and bad breath. It's best to brush your teeth at least twice a day, if not after every meal. Don't forget to floss daily. If you'll be away from home frequently over the next few weeks, create a travel-sized oral hygiene kit to make it easier to brush and floss while you're on the go.
2. Watch What You Eat
It can be difficult to resist your sweet tooth, but limit how often you have sugary foods and drinks. Even a few weeks of overindulging can lead to cavities. If you can't skip a sweet treat, eat it with a meal because chewing increases saliva production to rinse away sugar. Brush your teeth when you're done eating to remove any cavity-causing residue lingering in your mouth.
3. Skip the Alcohol
If you enjoy a glass of red wine with dinner or a little alcohol in your eggnog, your dentist will recommend moderating how much you drink. Many alcoholic drinks contain sugar, which feeds cavity-causing bacteria. However, alcohol can also dry out your mouth, creating the perfect environment for harmful oral bacteria that can increase your risk of decay, infections, and bad breath.
4. Drink More Water
Water will keep you hydrated and your mouth moist to combat bad oral bacteria. It will also cleanse your teeth in between brushing and flossing to remove food residue and bacteria.
5. Chew Sugarless Gum
Besides drinking more water, chewing sugarless gum can help keep your mouth clean. It will stimulate saliva production to prevent your mouth from becoming too dry and reduce oral bacteria growth.
6. Schedule a Cleaning and Checkup
Although life can get pretty busy over the next few weeks, don't forget to schedule your semi-annual cleaning and checkup. Your dentist will ensure you have a clean, healthy smile for the holidays.
You can head into the new year with your best foot forward by committing to your dental health during the holidays.
About Dr. Europa Yang
Dr. Yang earned her dental degree at Boston University and has continued her education regularly to provide up-to-date services. She focuses on prevention to help each patient maintain optimal oral health. If you need a cleaning and checkup before the new year, you can request an appointment through our website or by calling (413) 779-3136.