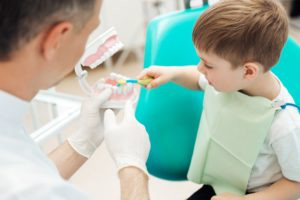 The new year is here, which is the perfect time to get your child to their pediatric dentist for a cleaning and checkup. Children need routine dental care, just like adults. Although their primary teeth are only in place for a few years, they are invaluable for your little one's oral health and development. A preventive appointment every 6 months will safeguard their baby teeth and create a healthy foundation for their permanent set. While you have all year to schedule an appointment, here are 4 benefits of seeing a dentist early in the year.
1. Reduce Their Risk of Tooth Decay
Although cavities are preventable, the Centers for Disease Control and Prevention reports that 1 in 5 children have untreated decay. It is the most common childhood disease. In fact, it is 5 times more prevalent than asthma.
Routine cleanings and checkups significantly lower the risk of childhood cavities. Besides cleaning their teeth, a pediatric dentist will also apply dental sealants and fluoride varnish to make your child's teeth more resistant to decay.
2. Prevent Missed School Days
Did you know 57 million school hours are missed annually from oral disease? You can ensure a toothache doesn't keep your little one out of the classroom with a preventive appointment.
Their pediatric dentist will examine their mouth to look for anything concerning, like weakened enamel. They'll stop a minor issue from turning into a big problem, so your child will spend more time learning.
3. Support a Lifetime of Health Dental Habits
Research has shown that early dental care builds lifelong healthy oral hygiene habits. Besides teaching your child to care for their teeth and gums at home, visiting their dentist regularly following their first birthday further reinforces the necessity of good oral health.
Your child will learn that the dentist's office isn't a scary place for stress-free appointments. They'll also build a trusted relationship with their dental team. With the right dentist by your child's side, you can promote the likelihood of their smile lasting for a lifetime.
4. Their Dental Benefits Have Reset
Dental insurance makes it easy and affordable for your little one to get the care they need. Their dental benefits reset on the 1st of the year, which covers 100% of preventive dentistry. If their dentist finds an issue, their benefits can pay up to 80% of the expense of common restorative treatments.
Life can get busy after the holidays, but keep your child's dental health a priority. You can ensure they start the new year with a healthy, beautiful smile by scheduling a cleaning and checkup.
About Dr. Marie Tremblay
Dr. Tremblay earned her dental degree at the University of Montreal and continued her education to focus on pediatric dentistry. She is a proud member of the American Academy of Pediatrics Dentistry. She provides the compassionate care children need. If your child needs a cleaning and checkup, request an appointment through our website or call (413) 7779-3136.