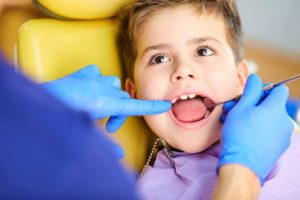 Spring is here, which means you're probably cleaning out closets, toy boxes, and cabinets. As you give your home a good deep cleaning, now is also the perfect time to give your child's smile a little extra attention. Here are 3 ways to give your little one's mouth a good spring cleaning to promote healthy teeth and gums.
1. Swap Their Toothbrush
Life gets busy and time can fly by. Before you know it, several months can pass before getting your child a new toothbrush. The American Dental Association recommends switching to a new toothbrush every 2 to 3 months or when the bristles are worn, whichever comes first.
Look for a toothbrush that has earned the American Dental Association's Seal of Acceptance. Choose one with soft bristles that accommodates the size of your child's mouth.
An electric toothbrush can be a great option because many come with certain features to promote good brushing habits, like a timer or pressure sensor.
2. Improve Their Home Oral Hygiene
Children often view brushing and flossing as a chore. Whether they rush through brushing or skip flossing, it's never too late to encourage your child to improve their oral hygiene routine.
Create a reward system to get them excited about brushing and flossing. Encourage them to brush their teeth for at least 2 minutes in the morning and at night. If your child is over the age of six, they should floss their teeth daily. If traditional floss is difficult for them to use, add a water flosser to their routine. It emits gentle pressurized water to clean the most hard-to-reach places without the risk of injuring their gums.
3. Schedule a Semi-Annual Cleaning and Checkup
Besides brushing and flossing at home, your child's oral health also relies on routine dental care. The American Dental Association recommends a cleaning and checkup every 6 months.
Your child's dental hygienist will remove any plaque or tartar missed at home. Their dentist will monitor their oral health to detect anything concerning while it's still small, like weakened enamel. You can ensure a toothache doesn't ruin their summer plans with a quick trip to the dentist to keep their smile healthy.
Research has found that early dental habits support a lifetime of good oral hygiene. Take a break from your spring cleaning to help your child discover the importance of healthy teeth and gums.
About Dr. Ghulam Sheraz
Dr. Sheraz earned his dental degree from the University of Medicine and Dentistry of New Jersey and continued his education in pediatric dentistry at NYU Langone Health in Nashville. He is a member of the American Academy of Pediatrics Dentistry and many other professional organizations. Request an appointment through our website or call (413) 779-3136.