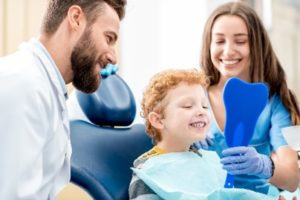 Your child's baby teeth are only in place for a few short years, but they are invaluable to their oral health and development. A good oral hygiene routine at home is crucial for keeping their teeth healthy and setting a foundation for a lifelong commitment to their dental health. Unfortunately, children can view brushing and flossing as a chore. Not to mention, the dentist can be a very scary place for young children. Don't worry, here are 5 ways you can make dental care fun for your little one.
1. Switch to an Electric Toothbrush
It's not uncommon for children to rush through their brushing routine or skip it altogether. An electric toothbrush can make up for their shortcomings because it offers more brush strokes per minute. Many also provide special features, like a pressure sensor to prevent them from brushing too hard.
Many electric toothbrushes on the market appeal to young children because they can have timers, flashing lights, or play music. You can even find toothbrushes featuring common characters, which can get your child excited about brushing their teeth.
2. Ditch Traditional Floss for a Waterflosser
Traditional floss and flossers can be difficult for small hands to use. It is easy for them to push too hard, which can injure their gums.
You can win the flossing battle with a waterflosser. It emits a gentle stream of water pressure to clean the most difficult-to-reach areas in their mouth. Plus, there's no risk of them injuring their gums.
3. Develop a Reward System
Encourage your child to brush twice a day and floss every night by creating a reward system, like a sticker chart. After completing a week of maintaining their oral hygiene routine, they can earn a reward, like staying up late to watch a movie.
4. Pick a Kid-Friendly Dentist
The sights, sounds, and smells of a dental office can be very intimidating for small children. Not to mention, they can be scared of the unknown. With the right dentist by their side, they'll feel comfortable and relaxed for tear-free dental appointments.
Look for a dentist who has completed additional training in pediatric dentistry to ensure they can provide the compassionate care your child needs.
5. Make It a Family Event
Young children learn by example, so brush and floss your teeth with your child. They'll get to spend time with you while also seeing you take your dental health seriously. They'll pick up on your habits and techniques to improve their oral hygiene routine.
Besides caring for their smile at home, schedule a cleaning and checkup every 6 months with their dentist. Early dental care is proven to support a commitment to healthy teeth and gums that can last for a lifetime.
About Dr. Marie Tremblay
Dr. Tremblay earned her dental degree at the University of Montreal and continued her education at Tufts University, focusing on pediatric dentistry. She is a proud member of many professional organizations, including the American Board of Pediatric Dentistry and the American Academy of Pediatric Dentistry. Request an appointment through our website or call (413) 779-3136.