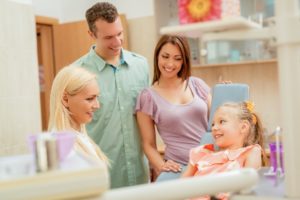 Another school year has come to an end, which means it's the perfect time to take a family vacation. As you book hotel reservations and pack your bags, don't forget to schedule your child's semi-annual cleaning and checkup. You don't want a toothache to interrupt your travel plans. Here's how you can ensure their smile is healthy before you leave, so you don't have to worry about a dental emergency ruining your little one's vacation.
Dental Emergencies are Common
Although you may never expect it to happen to your family, 1 in 6 Americans has a dental emergency annually. Although there's never a good time for one to occur, should it happen while you're traveling, a difficult situation can be much worse.
Believe it or not, dental emergencies don't always result from injuries or accidents. Many are caused by untreated oral health issues, like tooth decay. A quick trip to your child's pediatric dentist will ensure there aren't any concerns hiding in your little one's mouth.
Their dental hygienist will clean and polish their teeth to ensure their smile looks its best. Their dentist will examine their mouth to make sure their teeth and gums are healthy. If they find anything concerning, it can be addressed before you head out of town to prevent a toothache from interrupting your family time.
Tips to Prevent Dental Emergencies
You can't always stop a dental emergency from occurring, but there are many things you can do to lower the risk, like:
Commit to Brushing and Flossing: It's easy for your child to forget to brush and floss when they aren't at home. Ensure they are following their daily oral hygiene routine. Create a travel-sized kit to make it easier to brush and floss while on the go.
Limit Sugary Foods and Drinks: Choose healthy foods that are limited in sugars and starches. Encourage your child to drink plenty of water to stay hydrated and their mouth moist.
Practice Pool Safety: Pools are responsible for many dental emergencies. Make sure your child follows pool safety rules, like not running on wet surfaces.
Don't Forget an Athletic Mouthguard: If your family will be playing sports, riding bikes, or participating in other activities, don't forget to bring an athletic mouthguard to protect your child's smile.
Don't let a dental emergency damper your travel plans. Besides scheduling your child's checkup, don't forget to book one for yourself, too.
About Dr. Ghulam Sheraz
Dr. Sheraz earned his dental degree from the University of Medicine and Dentistry of New Jersey and completed his pediatric training at NYU Langone Health Nashville. He is a proud member of many professional organizations, including the American Academy of Pediatric Dentistry. If your little one needs a cleaning and checkup, request an appointment through our website.