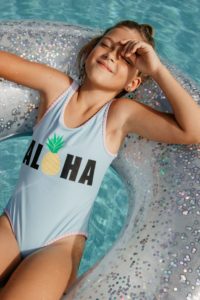 Kids are out of school for the summer, which means plenty of days spent in the pool. Swimming is great exercise and will keep your little one cool during heat waves. Unfortunately, if you aren't careful, their favorite summer pastime can lead to bad news during their next dental checkup. Swimming can affect your child's dental health, but they don't have to stay out of pools to protect their smile. Here's how to safeguard your child's smile from the potential risks of swimming.
Chlorine Linked to Enamel Erosion
You'll find chlorine in most hot tubs and swimming pools to kill harmful pathogens. Although it's harmless at the right level, if the concentration is too high, it can damage your teeth. Enamel is the hardest substance in the body, but it can't regenerate. Swimming in pools with high pH levels can break down enamel, increasing the risk of tooth sensitivity, cavities, and discoloration. The risks are the greatest for children who spend at least 6 hours per week in chemically treated water. It can leave chlorine deposits behind on your child's teeth.
Swimming Can Cause Dental Emergencies
Many children need to see an emergency dentist every summer because of swimming-related injuries. Slipping on a wet deck, diving into the shallow end of the pool, or bumping their mouth on the ledge can cause chips, breaks, and other injuries.
Protect Your Child's Smile While Swimming
You can avoid dental emergencies from interrupting your child's summer with a few tips:
Check pH Levels: If you have a pool or hot tub at home, the pH level should be checked at least once a week. If you visit a public or hotel pool, look at the ladder and other metal surfaces for signs of erosion, which can be caused by too much chlorine.
Rinse After Swimming: Get your child in the habit of rinsing their mouth with water after swimming to prevent chlorine from lingering on their teeth.
Practice Pool Safety: Enforce pool safety rules, like not running on wet surfaces or diving into shallow water. If your little one participates in watersports, they should wear an athletic mouthguard.
Increase Fluoride: Fluoride is nature's cavity fighter. It strengthens enamel to make teeth more resistant to decay. Fluoride is added to many public water systems to combat decay. Encourage your child to drink plenty of tap water and choose dental products containing fluoride. If your child swims often, ask their pediatric dentist about fluoride treatment to keep their enamel strong.
Schedule a Cleaning and Checkup: Your child should see their dentist every 6 months for a cleaning and checkup to keep their teeth and gums healthy.
You won't have to worry about your child's smile as they dive into the pool by giving their teeth a little extra attention.
About Dr. Europa Yang
Dr. Yang achieved her dental degree from the Boston University Henry M. Goldman School of Dental Medicine and continued her education to focus on pediatric dentistry. She is certified by the American Board of Pediatric Dentistry and is a member of various professional organizations, including the American Academy of Pediatric Dentistry. Request an appointment online or contact one of our convenient locations.